I was on London Hearts earlier, and I notice the front page carrying a photo of a Hearts v Scotland XI program from 1958: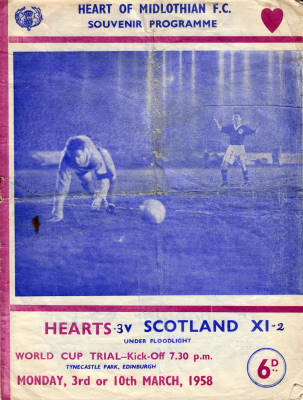 An excellent database of Scottish League Select matches exists on the LondonHearts website (compiled by David Ross).
http://www.londonhearts.com/scotland/scotland.htm
Wikipedia has a list of what purports to be all the Scotland B results (1952-1957, then none until 1987):
http://en.wikipedia.org/wiki/Scotland_B ... tball_team
And I recently bought Tommy Malcolm's excellent book on Glasgow v Sheffield.
However... can anyone highlight online or printed material listing the matches since WWII by:
*
Scotland XI
(who sometimes played v Scottish League XI's in trials games IIRC? v The Army? and at the SFL centenary)
*
Scotland U-23
?
*
Scottish League B Division Select
(didn't they have a game abandoned in Italy?)
*
Edinburgh Select
*
Glasgow Select
, other than v Sheffield / in Glasgow Charity Cup?
(Or any other Selects, for that matter... was there ever a Dundee Select post-war, for example?).
Obviously some will count as 'friendlies' in most people's eyes, especially games like "City Select v English Club" or "Scottish Club v Scotland XI".
However, others are more competitive affairs... especially matches between 2 representative teams (especially League v League or City v City).