Noticed this on London Hearts from
(Easter Monday) 25th March 1940.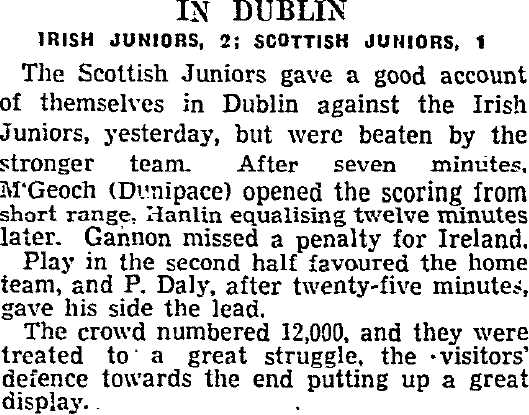 Notably it isn't given in the SJFA Centenary History by McGlone & McClure so potentially it mightn't be the only wartime fixture?
EDIT: Infact it's quite strange as McGlone & McClure gives only 1 preceding match with Eire, in 1929 with the next not coming until 1947.
Admittedly the SFL added an Inter-League match v the League of Ireland in spring 1939, but spring 1940 seems an odd time to start a new fixture.
EDIT AGAIN: Infact the SJFA Centenary itself notes:
Matches with the Republic of Ireland are not reckoned to have commenced until 1947 but we have found a match Scotland played on 9th March 1929 against the Irish Free State in Dublin. There may have been more games in this series at this time but none can be found.